BREWDOG AND TEMPLE OF SEITAN
Equity for Punks is now live! Click here to find out more about investing in BrewDog.
At BrewDog, we are fiercely proud to champion inclusive eating. For example, across our network of UK bars, at least half the dishes on offer in each is plant-based. So whether you are cutting meat out, cutting it back or embracing #Veganuary, our bars are there for you to discover epic plant-based alternatives whenever you need them. And from this week, that choice is going to get even more incredible.
We are joining forces with the kings of London vegan fried chicken – Temple of Seitan.
And to celebrate, all veggie and vegan mains are now 50% off for the entirety of January!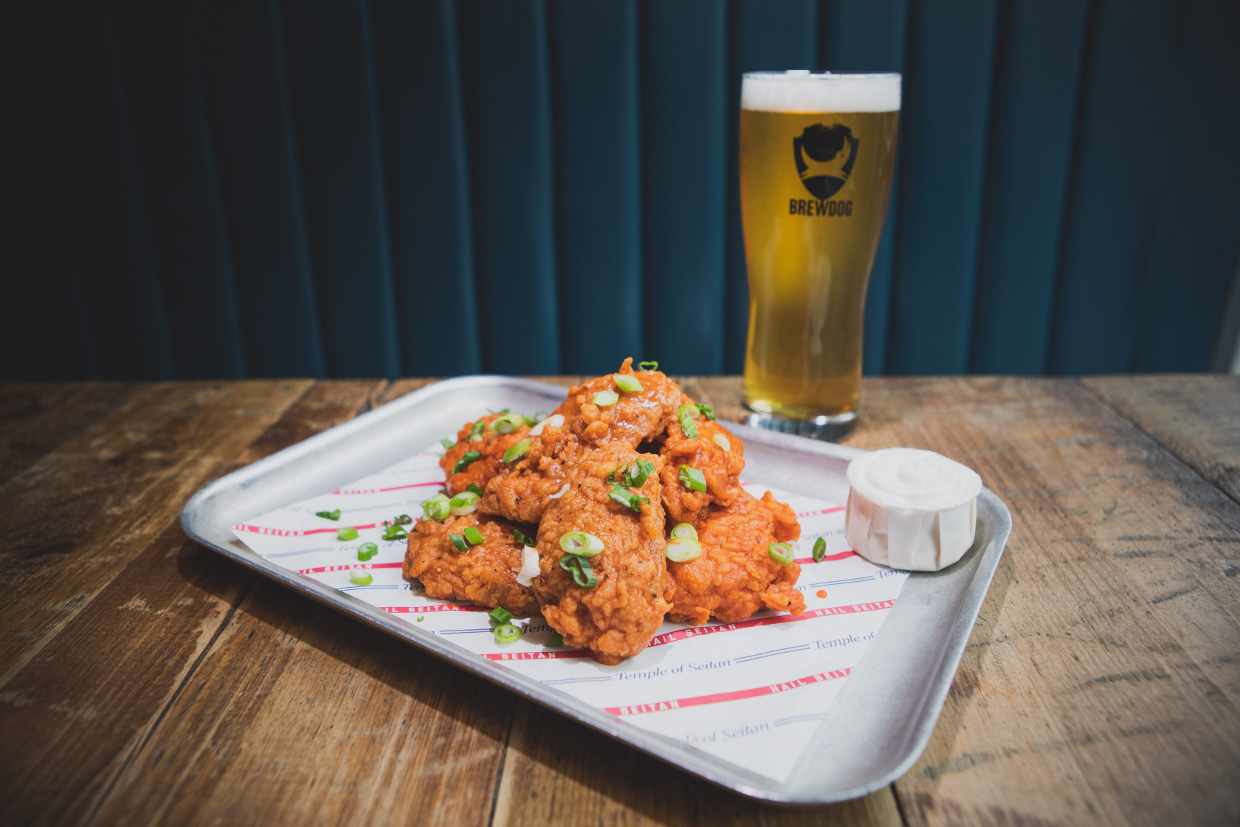 From today, we are proudly bringing Temple of Seitan's legendary, new vegan dishes to our network of UK BrewDog Bars. We have partnered with them to exclusively supply their signature seitan wings and burgers to our bars – giving you the chance to enjoy a plant-based diet with zero compromise on flavour.
Temple of Seitan started out at street food markets in East London, with founder Rebecca McGuinness having developed vegan recipes in her kitchen. In 2017 their first takeaway vegan fried chicken shop opened in Hackney, with a second now going great guns in Camden. Rebecca and her company have changed the game when it comes to inclusive eating, and deservedly gained a cult following in the process.
Their wings will be given the full BrewDog treatment – doused in our hot sauce and syrup glaze and served with a vegan mayo dip. The wings will also be available as part of BrewDog's 'All you can eat' Wings Wednesdays offer. Their delicious seitan patties will take centre stage in our Temple of Seitan and Clucky This Time burgers. The former comes with crispy kale, sun-kissed tomato chutney and hummus in a beetroot brioche, whereas Clucky This Time is the ultimate southern-fried seitan piled with avocado, red onion and coriander.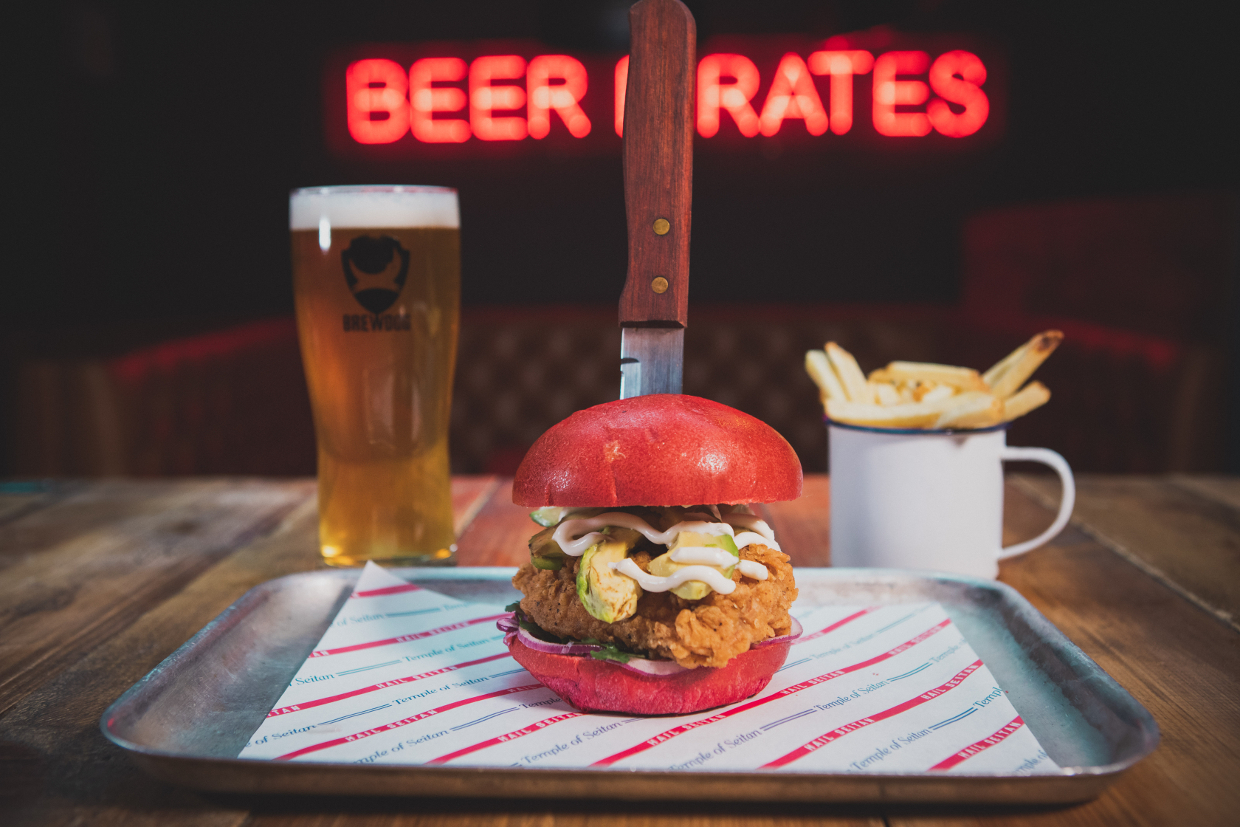 To celebrate this exciting partnership, the first 5 people to order Temple of Seitan wings in each UK bar today will score them on the house! (Excluding BrewDog Edinburgh Airport, BrewDog Dalston and BrewDog Swansea)
If you'd like to discover more about exactly what modern vegan junk food is all about, then we will have your back throughout this first month of the year – all vegetarian and vegan mains are now 50% off for the whole of January. Just check this link to get the details and receive your all-important voucher. The only difficulty will be selecting what to eat!
With 95% of our core-range craft beer suitable for vegans, launching 2-4-1 Vegan Mondays, and having established out first 100% dedicated vegan bar BrewDog Dalston in collaboration with Biff's Jack Shack, linking with Temple of Seitan is another game-changer. We are psyched to partner with them to bring their vegan junk food to our UK Bars; giving more people a chance to discover an alternative is exactly what we (and Temple of Seitan) are all about.
And don't forget that all veggie and vegan mains are 50% off for January, sign up here!
Equity for Punks is now live! Click here to find out more about investing in BrewDog.
IMPORTANT NOTICE: Investments should only be made on the basis of information in the prospectus available at www.brewdog.com/equityforpunks. The value of investments can go down as well as up and invested capital is at risk