BREWDOG VS CLOUDWATER NEW ENGLAND IPA
Week in, week out our incredible team of brewers work wonders to get amazingly fresh beer to you – our crew are simply the best in the business. For proof, today we release a five-strong line-up of new beers – all of which are now online at BrewDog.com. The list encompasses new recipes, new packaging sizes, new sours and a new look for one of the most popular beers we have ever released. We also welcome the return of a powerhouse from BrewDog OverWorks.
Buckle up and read on.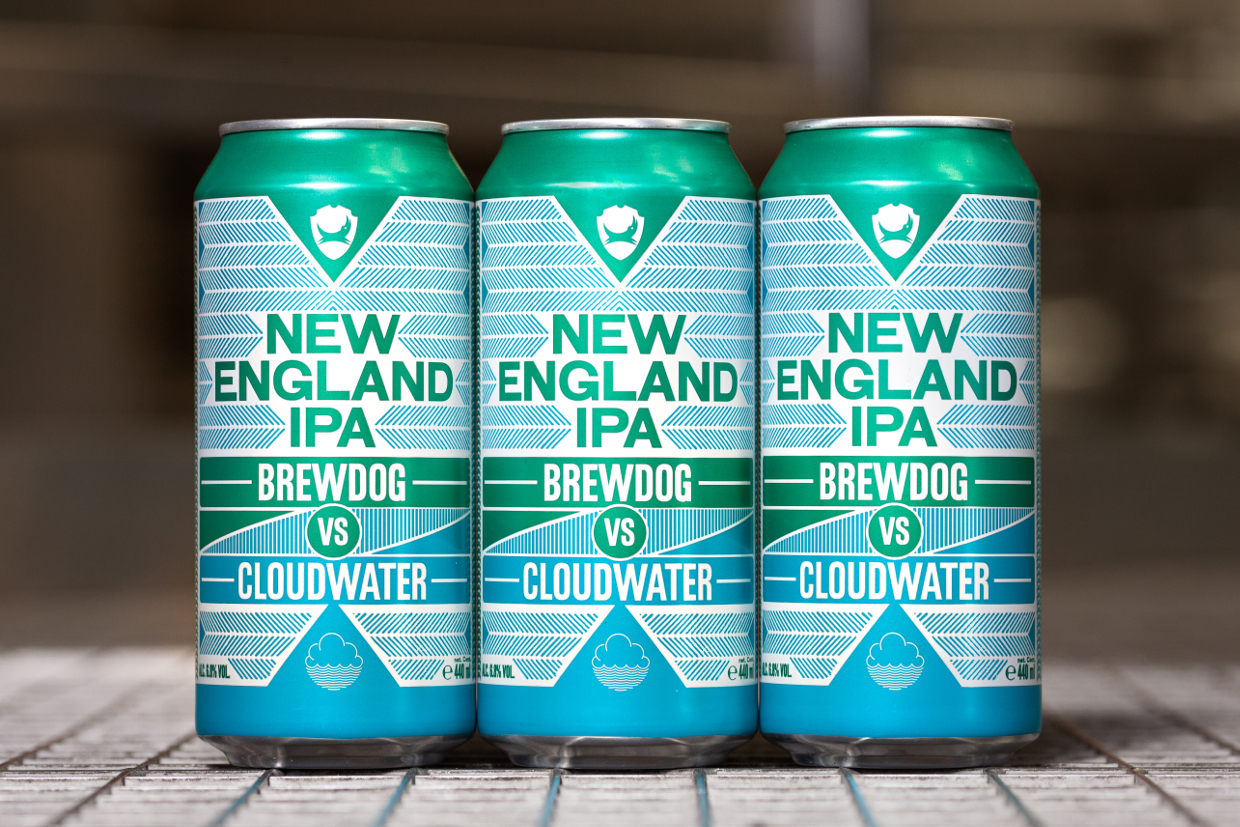 BrewDog vs Cloudwater New England IPA
You can buy BrewDog vs Cloudwater New England IPA online here
Back in January 2017 we welcomed Paul Jones and the Cloudwater team to BrewDog HQ for a collaborative brewday, and had an absolute blast creating our collective take on the style of the moment – a New England IPA. In the two and a half years since, time has moved on but the style remains, embedded in the foundations of modern brewing. So we decided to re-brew our original collab but change things up a little – by packaging it in 440ml cans. And it is out now.
BrewDog vs Cloudwater is a 6.8% New England IPA, hopped with Mosaic in the whirlpool only. Without any big-hitting additions of hops in the boil, we carried the flavour by heavily dry-hopping the brew with Citra and Mosaic. Topping out at around 30 IBUs, we added oats to deliver the trademark smooth mouthfeel – the beer is juicy and tropical, with notes of peach, melon, lime and caramelised pineapple leading into a full-bodied, dry finish. It typifies a style here to stay.
BrewDog vs Cloudwater New England IPA is out now online at BrewDog.com and will be pouring in UK BrewDog Bars next week, from 6pm on Thursday 14th August. You can also pick up the 440ml cans in selected Tescos stores from Monday 12th August.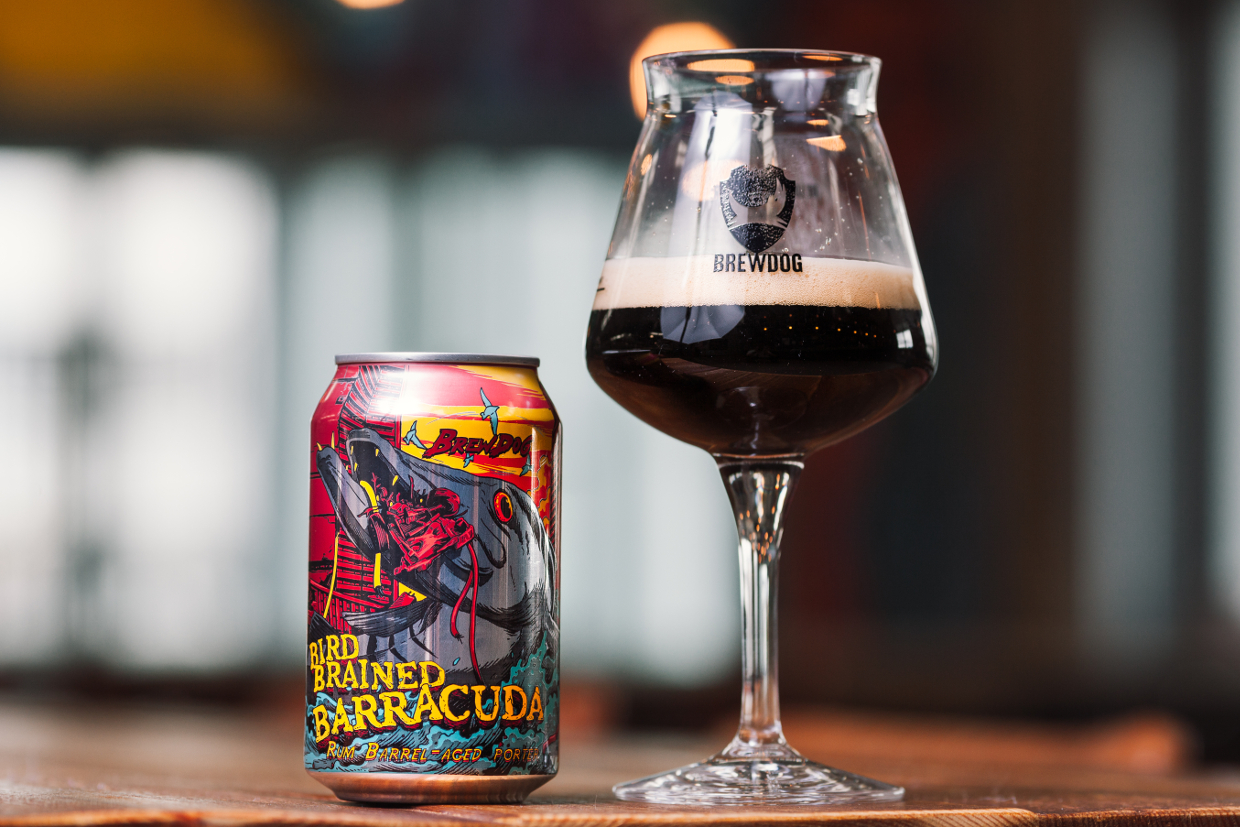 Bird Brained Barracuda
You can buy Bird Brained Barracuda online here
Also out today, our third Wildcard release for 2019 – a rum barrel-aged porter that is the perfect beer with which to nurse the approach of Autumn. Bird Brained Barracuda takes inspiration from home and overseas as our brewers created a roasty, chocolate-heavy porter with a complex eight-strong malt bill, including Munich, Dark Crystal, Brown, Carafa and Chocolate Malts. With Flaked Oats to give a richer mouthfeel this beer is led from the baseline – but taken to new heights by the influence of wood.
Three months of ageing in ex-rum casks has given Bird Brained Barracuda a resonant finish of dark fruits, vanilla, molasses and coconut – a jolt of flavour clippered direct from the West Indies. The warming heart of the beer starts with the malt bill but very much ends with the barrel-ageing; rum adding a welcoming cloak of syrupy sweetness that balances the 9.2% ABV and leaves you ready to cast off to coastlines anew. And as ever with our Wildcards, we have partnered with an amazing artist for the look of the can - our Bird Brained Barracuda is portrayed by the incredible Joe Wilson.
Bird Brained Barracuda is live online now and will be pouring from our UK Bars from 6pm tonight, Thursday 8th August.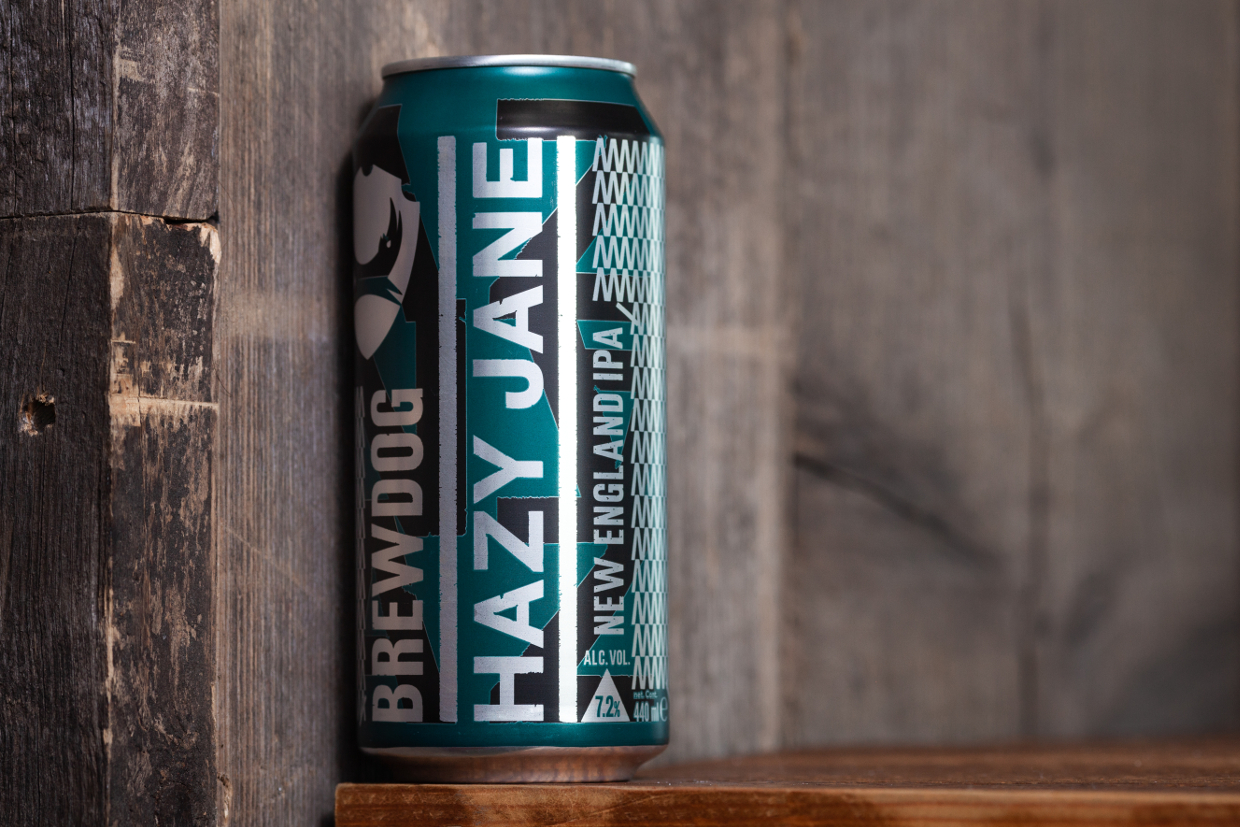 Hazy Jane
You can buy 440ml cans of Hazy Jane online here
If you like to embrace the opaque, then alongside our collaboration with Cloudwater this is the week for you; we are also releasing a run of our home-bred New England IPA, Hazy Jane, in 440ml cans. Yes, the full tilt fruit hit just got fuller. Brewed with oats and wheat and left unfiltered for a hazy appearance and super smooth delivery, our 7.2% ABV east coast hero delivers pineapple, mango, stone-fruit and a hint of zesty lime. It is low on bitterness, high on haze, heavy on hops and now hits new heights at 440ml.
You can buy the new-sized cans of Hazy Jane online here and like the Cloudwater collaboration, from selected UK Tescos from Monday the 12th of August.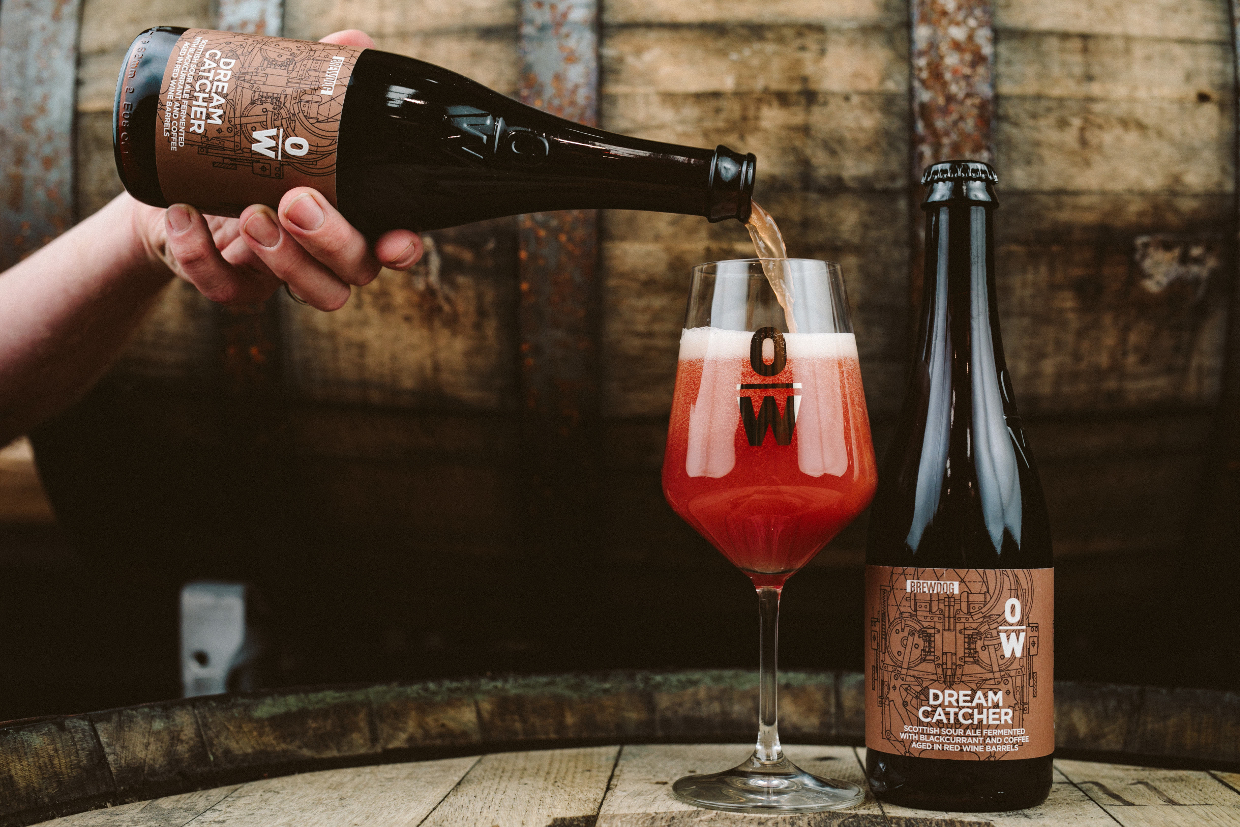 BrewDog OverWorks Dream Catcher and Cosmic Crush Peach
You can buy BrewDog OverWorks Dream Catcher online here
You can buy Cosmic Crush Peach online here
Another week, another re-up of incredible sour, wild and mixed fermentation wonders from BrewDog OverWorks. Out now, Richard Kilcullen and his team have created a Scottish sour fermented with blackcurrant and coffee and aged in red wine barrels. Dream Catcher is a wake-up call combining the brightness of fresh-picked berries and woody spice from ageing. The subtle addition of coffee provides a bitterness linking the tannins from the oak casks and leading to a dry, sour finish, redolent with berry fruit.
Also out today is a new batch of one of the original BrewDog OverWorks releases; Cosmic Crush Peach. The guys sourced another 1,000kg of white peaches from Campania to craft a sour with juicy sweetness and a dry, peach-skin like body complemented by a bright and balanced acidity. The Italian red wine barrels impart a complexity that enriches this hugely flavourful and hugely popular beer. Both beers are live online now, and you can also discover Dream Catcher on draft in our UK Bars from tonight, Thursday 8th August, at 6pm.
So another unparalleled week of new and returning BrewDog beer, all ready and waiting to be uncovered. Also if you find yourself in a UK BrewDog Bar today, you may also discover another beer – fresh from our Pilot Kit – the first ever BrewDog Radler…