CANS FOR EQUITY IS NOW CLOSED. FIND OUT MORE ABOUT OUR COMMITMENT TO SUSTAINABILITY HERE.
Last week we unveiled BrewDog Tomorrow, a series of initiatives to make our company more sustainable and deliver real impact in our industry. The first of these six projects is Cans for Equity. And it is ready to go.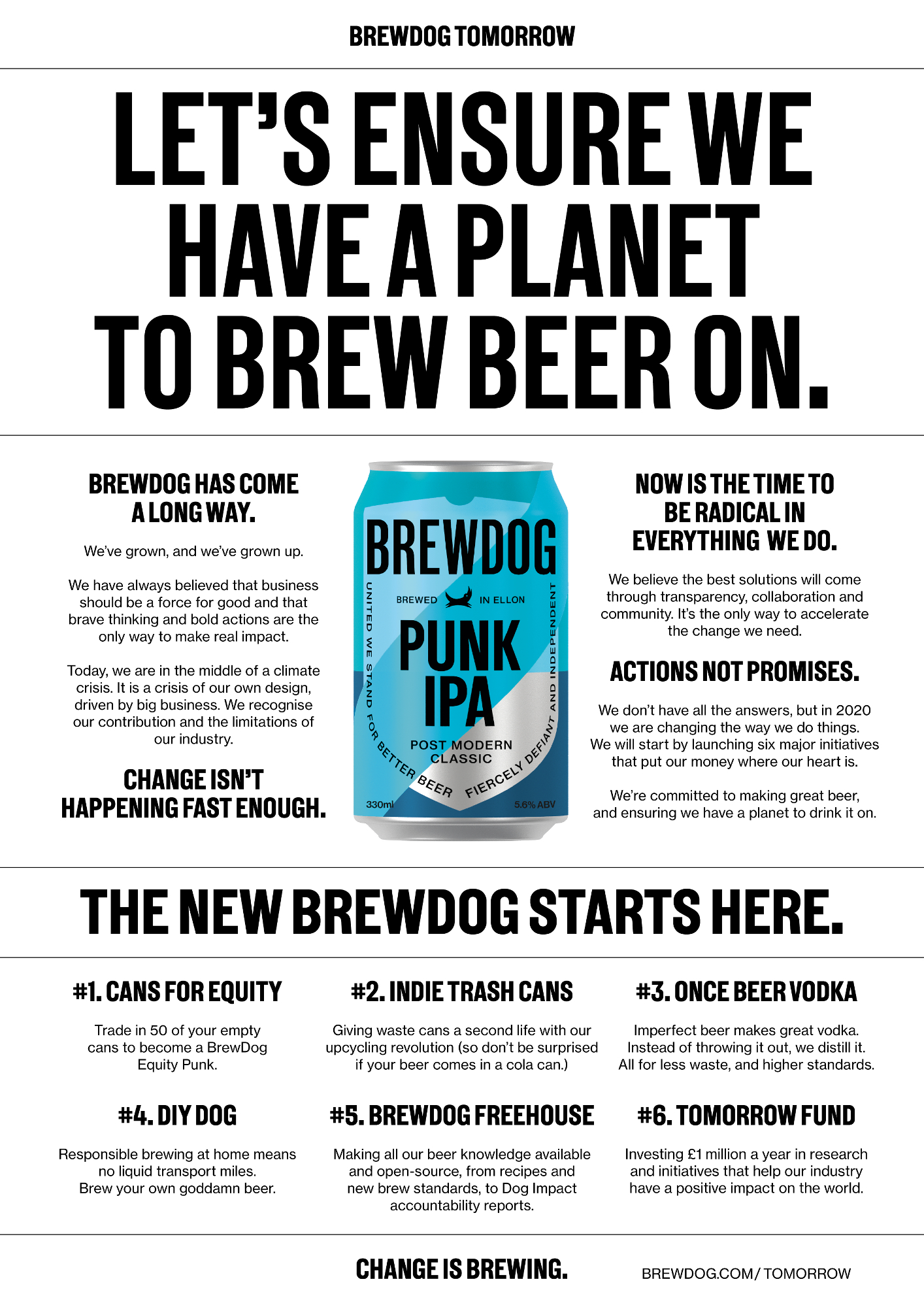 Trade in 50 of your empty BrewDog cans and become an instant Equity Punk.
Equity for Punks puts you, the people who drink our craft beer, at the centre of everything we do. Our 130,000 Equity Punks are our community, our shareholders and our friends. And now, with Cans for Equity, you can join them by investing in our alternative small company by returning 50 empty BrewDog cans.
Just head to your nearest UK or European BrewDog Bar armed with BrewDog cans (in batches of 50) and upon handing them in you'll be able to claim a voucher for one share in our company. Working with our partners at First Mile we'll take all of the cans, recycle them and return the aluminium to the packaging industry; saving energy, reducing CO2 emissions and diverting the cans from landfill. This initiative is live in the UK from today, and will be up and running across Europe from the 25th February 2020.
At BrewDog, we have always believed that business should be a force for good. BrewDog Tomorrow is just the start of a series of bold actions to play our part.
So give us back your empties and we'll give you a part of BrewDog.
It's a fair trade
Please note, Equity for Punks is now closed, and we are no longer currently issuing shares. Thanks to everyone who got involved with this initiative!
Terms & Conditions (English): The Equity for Cans initiative is subject to shareholder approval at a forthcoming general meeting expected to be held on or around 11th April 2020 and no shares will be issued pursuant to the initiative until and unless that approval is received. The Cans for Equity initiative allows participants to take advantage of reduced price cash offer for 'B' Ordinary Shares in BrewDog plc which will be issued in cash at their nominal value of 1p per share. Amounts unpaid at the time of issue could be subject to a call in the future and to interest at a rate of 5% per annum. The maximum number of 'B' Ordinary Shares that may be issued to any one participant pursuant to the Equity for Cans initiative is 1 and the maximum total number of 'B' Ordinary Shares that may be issued is 5,000. Capital at risk. Financial promotion approved by SPNV Limited (FCA No. 610217).
CONDITIONS GÉNÉRALES (Français): LES CAPITAUX PROPRES DE L'INITIATIVE « EQUITY FOR CANS »SONT SOUMIS À L'APPROBATION DES ACTIONNAIRES À UNE ASSEMBLÉE GÉNÉRALE QUI AURA LIEU AUX ALENTOURS DU 11 AVRIL 2020 ET AUCUNE ACTION NE SERA ÉMISE EN VERTU DE L'INITIATIVE JUSQU'À CE QUE L'APPROBATION SOIT REÇUE. L'INITIATIVE « EQUITY FOR CANS » PERMET AUX PARTICIPANTS DE PROFITER DE L'OFFRE EN ESPÈCES À PRIX RÉDUIT POUR LES ACTIONS ORDINAIRES «B» DE BREWDOG PLC QUI SERONT ÉMISES EN ESPÈCES À LEUR VALEUR NOMINALE DE 1P PAR ACTION. LES MONTANTS NON PAYÉS AU MOMENT DE L'ÉMISSION POURRAIENT ÊTRE SOUMIS À UN APPEL DANS L'AVENIR ET À DES INTÉRÊTS À UN TAUX DE 5% PAR ANNÉE. LE NOMBRE MAXIMAL D'ACTIONS ORDINAIRES «B» QUI PEUVENT ÊTRE ÉMISES À TOUT PARTICIPANT EN VERTU DE L'INITIATIVE « EQUITY FOR CANS » EST DE 1 ET LE NOMBRE TOTAL MAXIMAL D'ACTIONS ORDINAIRES «B» QUI PEUVENT ÊTRE ÉMISES EST DE 5 000. CAPITAL À RISQUE. PROMOTION FINANCIÈRE APPROUVÉE PAR SPNV LIMITED (No FCA 610217).
(Deutsch): CANS FOR EQUITY FINDET VORBEHALTLICH DER ZUSTIMMUNG ALLER BISHERIGEN SHAREHOLDER STATT. EINE ABSTIMMUNG FINDET UM DEN 11. APRIL 2020 STATT. ERWORBENE ANTEILE DURCH CANS FOR EQUITY WERDEN ERST NACH SHAREHOLDER ZUSTIMMUNG AUSGESCHÜTTET.
AKTIONSZEITRAUM: 25.02.2020 – 04.04.2020. PRO PERSON KÖNNEN NUR 1 MAL 50 DOSEN ABGEGEBEN UND NUR 1 UNTERNEHMENSANTEIL ERWORBEN WERDEN. INSGESAMT WERDEN IN EUROPA UND UK 5.000 ANTEILE VERGEBEN. EINE AUSZAHLUNG DES PFANDES IST BEI TEILNAHME AN DER AKTION NICHT MÖGLICH. INVESTITIONSENTSCHEIDUNGEN SOLLTEN NUR AUF BASIS DER INFORMATIONEN IN DER WERTPAPIERBESCHREIBUNG AUF BREWDOG.COM/EFPDEUTSCHLAND GETÄTIGT WERDEN. DER WERT VON ANTEILEN KANN SOWOHL FALLEN ALS AUCH STEIGEN. EINE INVESTITION IST IMMER AUCH MIT RISIKEN VERBUNDEN. CAPITAL AT RISK. FINANCIAL PROMOTION APPROVED VY SPNV LIMITED (FCA No. 610217).