#COLLABFEST2018 - THE BEERS
This coming weekend sees one of the highlights of our year, with the biggest ever BrewDog Collabfest. Over fifty bars around the world will be pouring a series of collaborative beers, spread over four days. From Thursday 18th to Sunday 21st October, our amazing bar crews will be hosting a festival like no other - one in which they had more than a helping hand. As ever, one the eve of the festival let's reveal the beers that will make #Collabfest2018 the best year yet.
And for those starting out early - the first forty people to visit each UK BrewDog Bar and order a flight will receive a special commemorative #Collabfest2018 tasting glass absolutely free! But get there early, as each bar has only forty in stock...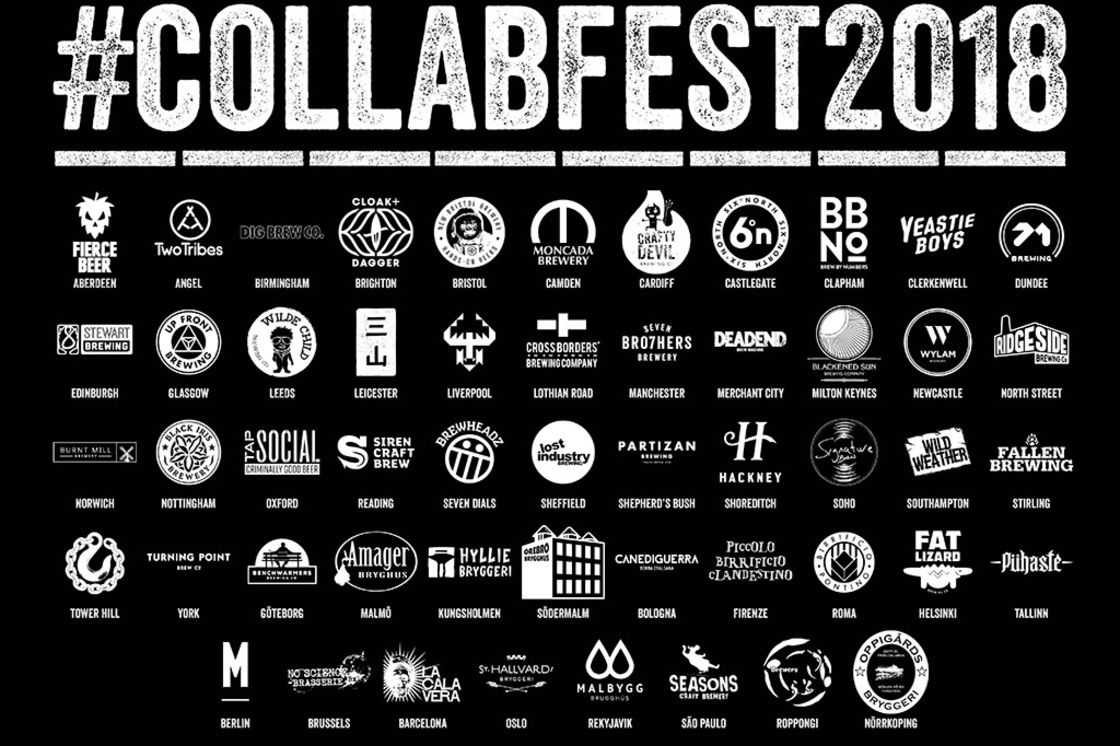 As ever with #Collabfest, when we say the beers will be unique, we really mean it…
Aberdeen & Fierce Beer
6pm Sinner Amber DIPA w/ Lime Juice 8.5%
Angel & Two Tribes
Dry Your Ryes Mate Red Rye Session IPA 4.8%
Birmingham & Dig Brew Co
Slim Shandy Wheat Shandy 2.5%
Brighton & Cloak+Dagger
Beer Grills Southern BBQ Stout 7.2%
Bristol & New Bristol Brewery
I Woke Up In This Mango & Coconut DIPA 8.0%
Camden & Moncada
Buck Craft Kettle Sour 6.0%
Cardiff & Crafty Devil
Jammy Bastard White Raspberry Stout 6.0%
Castlegate & 6 Degrees North
Bringin Zesty Back Raspberry Sour w/ lemon & icing sugar 6.0%
Clapham & Brew By Numbers
Paddy Cake Carrot Cake-inspired Saison 6.7%
Clerkenwell & Yeastie Boys
Hippo's Can Fly Bretted Norwegian Farmhouse IPA 7.0%
Dundee & 71 Brewing
97 On Ratebeer Tropical Stout 7.0%
Edinburgh & Stewart Brewing
Resting Beach Face Cucumber, Seaweed & Samphire Gose 5.0%
Glasgow & Up Front
The Obvious Choice NEDIPA 8.0%
Leeds & Wilde Child
I Tira-Miss-U Tiramisu Milkshake Stout 6.0%
Leicester & 3 Hills Brewery
Blackberry Crumble Brut Fruit Brut IPA 6.0%
Liverpool & Black Lodge
Wake 'n Bake Cherry Bakewell Sour 4.2%
Lothian Road & Cross Borders
BrawDog New Zealand IPA 6.0%
Manchester & Seven Bro7hers
Dunkel Checks In Chocolate and Banana Dunkelweisse 5.5%
Merchant City Glasgow & DeadEndBrewMachine
Wit Beer Can't Jump Wit w/ White Grape, Peach and Kaffir Lime 5.0%
Milton Keynes & Blackened Sun
Malfiore Oatmeal Black Saison 6.0%
Newcastle & Wylam
Heaton Mess Eton Mess Kettle Sour w/ Lactose and Vanilla 5.0%
North Street Leeds & Ridgeside
Spilt Milk Vegan Milkshake Pale 5.8%
Norwich & Burnt Mill
Mallow Rose Raspberry & Basil Saison 5.0%
Nottingham & Black Iris
Prickly Heat Chilli & Pineapple Black DIPA 7.0%
Oxford & Tap Social Movement
In The Gateau Black Forest Gateau Stout 5.5%
Reading & Siren
Brut Romance Strawberry & Rose Brut IPA 6.0%
Seven Dials & Brewheadz
Stairway to Seven Black IPA 5.8%
Sheffield & Lost Industry
Eat My Mess Eton Mess Sour Sundae 6.0%
Shepherd's Bush & Partizan
The W. Collins White Negroni Saison 6.0%
Shoreditch & Hackney Brewing Co.
Space Coyote Mango Scotch Bonnet Chilli IPA 5.5%
Stirling & Fallen
Stirlinger Weisse Berliner Weisse 3.6%
Soho & Signature Brew
Radio Java Coffee Pale Ale 5.0%
Southampton & Wild Weather
Champ. Membrane Brut IPA 5.8%
Tower Hill & Hale
Hip Replacement West Coast IPA w/ Rose Hip 8.6%
York & Turning Point
Chip Hazard Mint Choc Chip Pale Ale 7.4%
Goteborg & Benchwarmers Brewing Co
Drop The Basil Basil/Lime Saison 5.0%
Malmö & Amager Bryghus
Flubdub DDH Session IPA 4.5%
Kungsholmen & Hyllie Bryggeri
HyllieDog Grapefruit IPA 6.5%
Bologna & Canediguerra
(Extra Brut) India Grape Ale Extra Brut IPA 7.0%
Roma & Birrificio Pontino
N.E 14.69 Session NEIPA 4.5%
Helsinki & Fat Lizard Brewery
Kustom IPA West Coast IPA 6.9%
Brussels & No Science
Psycho Table Beer 6.0%
Norrkoping & Oppigårds Bryggeri
OppiDog Pale Ale 5.6%
Firenze & Piccolo Birrificio Clandestino
Something Purple Blackcurrant Berliner 4.5%
Tallinn & Puhaste
Black Swan Coffee and Chocolate Sour 4.5%
Berlin & Motel Beer
Silver Beech Lichtenhainer 3.3%
Barcelona & La Calavera
Crossover Berliner Weisse 4.0%
Sodermalm & Örebro Brygghus
Black Öyster Stout Oyster Stout 5.3%
BD57 Oslo & St Hallvards Bryggeri
Not Another NEBA NE Habanero Brown Ale 6.5%
So not one, but two Eton Mess-inspired kettle sours. That's Collabfest! The festival runs from Thursday 18th to Sunday 21st October in every BrewDog Bar (with the exception of DogTap and DogTap Columbus). In addition, BrewDog Sao Paulo, Reykjavik, Roppongi and our bars in America are doing their own in-country only Collabfests. Also please note not every beer will be available in every bar, but we will do our best!
But there's more. To celebrate extending #Collabfest2018 into four days we are ending with a bang thanks to Collabfest's SUNDAY TICKET. From 7pm on Sunday 21st we are offering a special deal on purchases of three flight boards (12 x third pints). And Equity Punks, your discount stacks - meaning you could be getting almost an entire flight board on us! Tickets are limited to each bar and must be booked in advance.
#Collabfest2018 is about kicking back with one amazing beer after another and discovering the real meaning of collaboration. Be sure and ask the people pouring the beers for you how they got on during their brewdays and let us know your thoughts on all the beers with your online tasting notes via the hashtag #Collabfest2018 as well as checking the beers in on UnTappd - where once again there is a special Collabfest badge! The most important thing of all? Enjoy the beers!