Germany has a beer culture like nowhere else on Earth, and in its pulsating capital Berlin a community of advocates for local, independently-produced food and drink that rivals few others. We love the city and its attitude, and from tomorrow we are proud to be able to play our part in paying tribute to German brewing and its traditions there. One of the coolest things we have ever done – DogTap Berlin – opens to the people of the German capital.
Our new 2,500m2 taproom and 4,000m2 of gardens is ready to rock and will open at 12:00 on Saturday August 10th.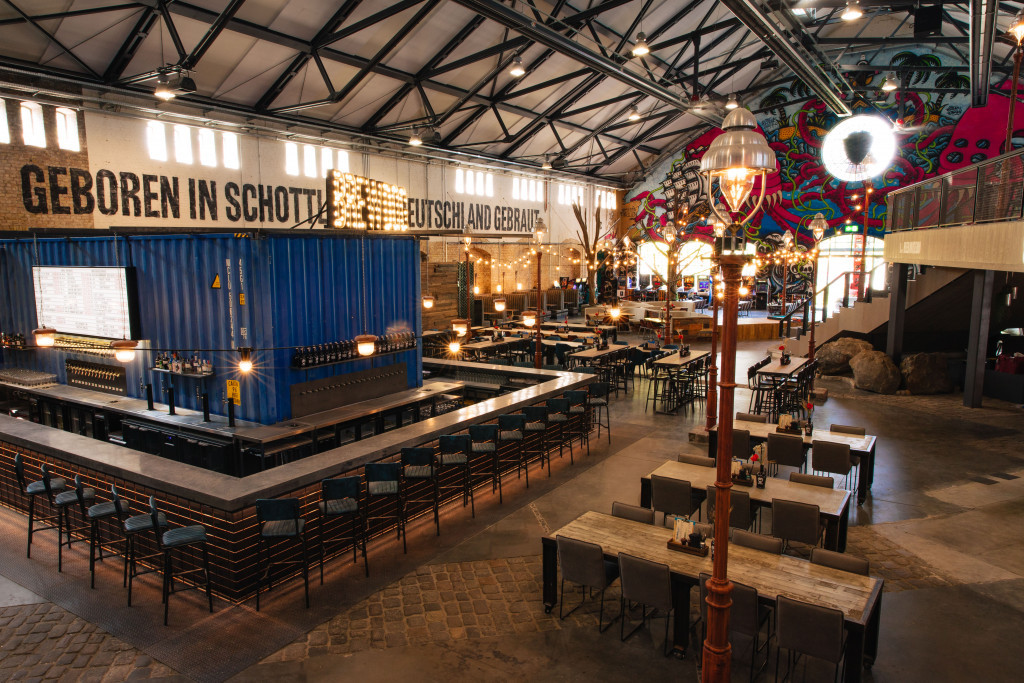 We will be opening up with live music, free brewery tours running all day, and a huge number of super-fresh BrewDog beers pouring – including exclusive brews for DogTap Berlin and beer from BrewDog OverWorks. We are laying on a shuttle bus between BrewDog Berlin Mitte and DogTap Berlin at 2, 4, 6, 8 and 10pm on the day, and if you take a local train to Mariendorf and spend €40 we'll refund the ticket. Oh, and we have a scavenger hunt with prizes you won't want to miss.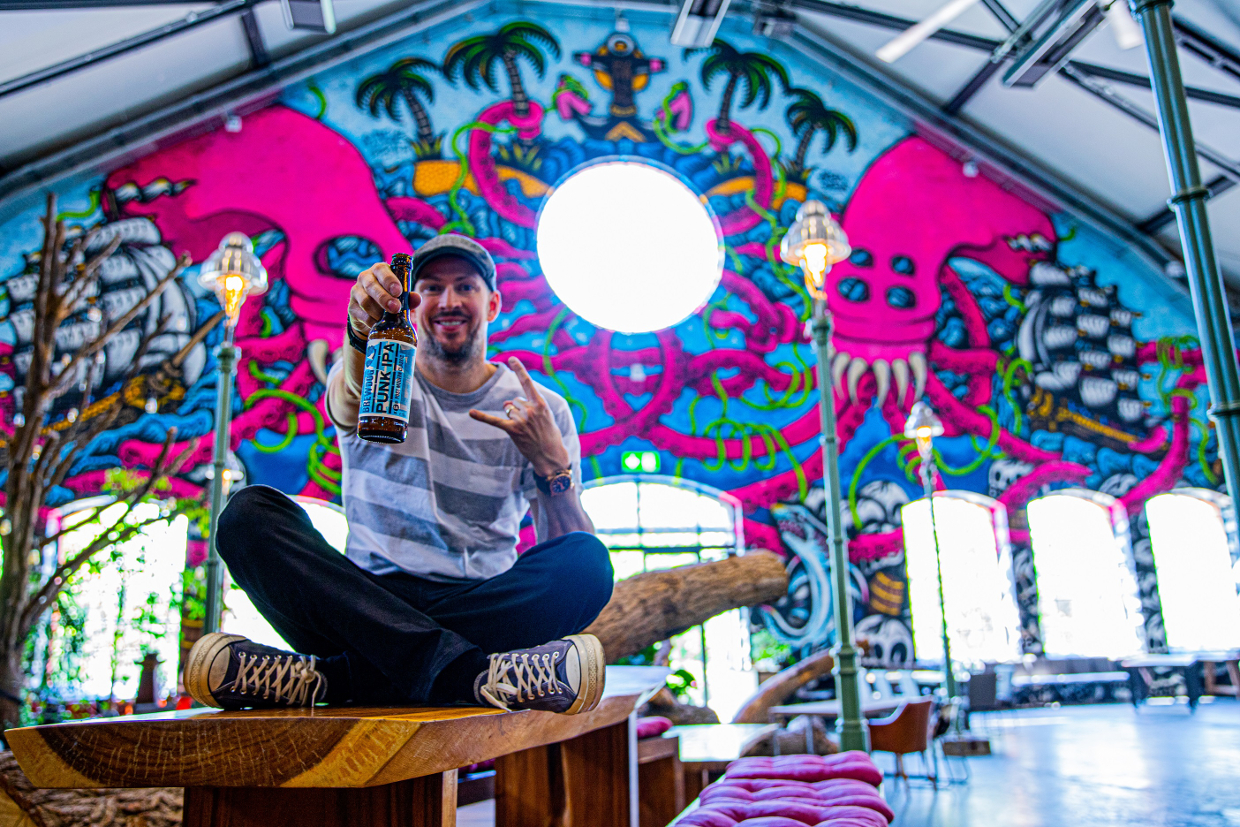 DogTap Berlin is located in the restored Mariendorf gasworks building at Im Marienpark 23, 12107 Berlin in the neighbourhood of the same name, south of the city centre. Dating back to 1901, the wide, high gabled building with stained glass is a unique place to brew and serve beer – and as we work on dialling in the brewery we are psyched to be able to open the taproom and gardens to the people of the city.
The taproom will be serving up our famed menu of burgers, wings and pizza and will also offer up bespoke small and larger plates influence by our new German home such as beer-can chicken, Strammer Max and Wiener Schnitzel! We will also open up at 09:00 on Saturday and Sunday and Bank Holidays for brunch! Our amazing team will be working hard with 60 – sixty – taps spread over four different bars, including our new cask beer format. (Just wait until #CollabFest, take it from us).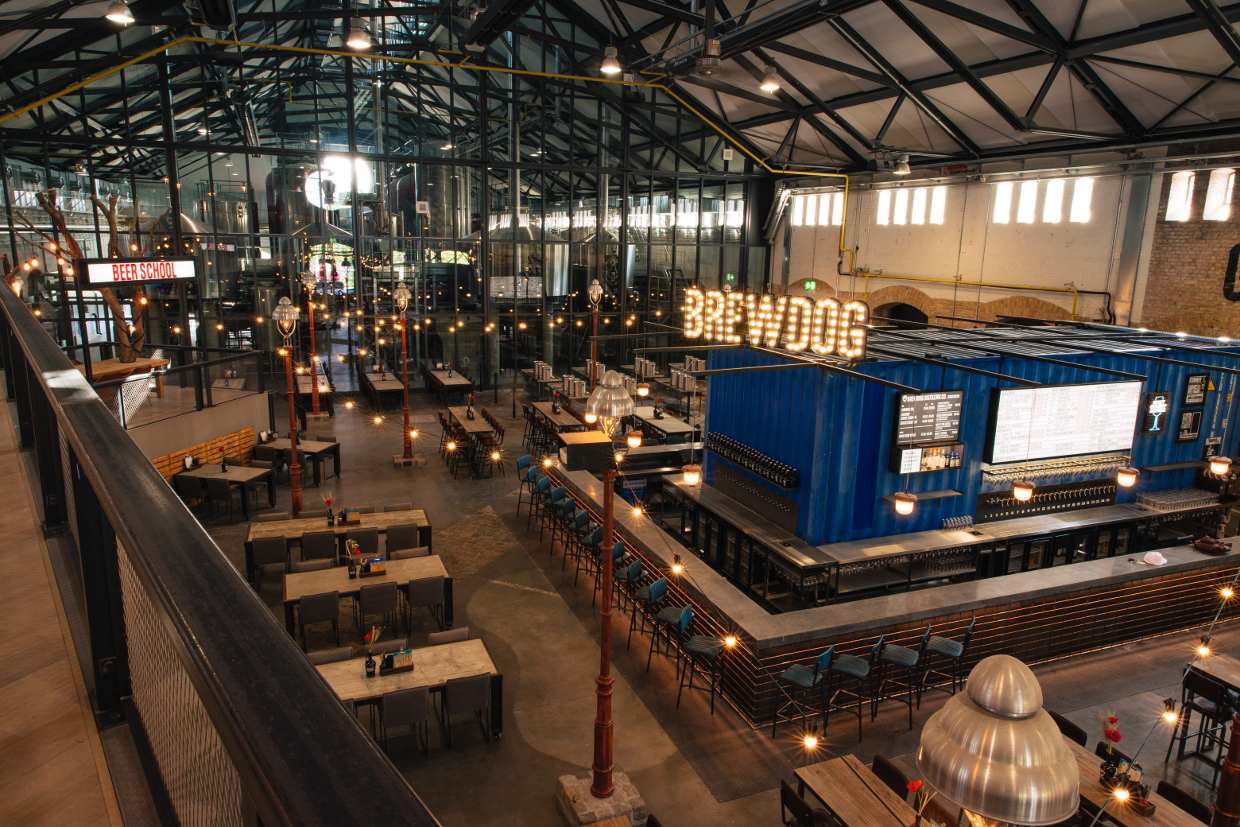 As well as the food and beer, at DogTap Berlin you can find a dedicated Beer School area to learn more about craft beer, a DeskDog zone for those working away from their home and a craft beer museum. Plus we are rocking minigolf, arcade machines, shuffleboard, a dog park and a series of 30 litre brewing kits that can be hired by anyone wishing to have a go at brewing for themselves or take their homebrew to new heights.
Berlin is one of the most exciting cities in the world, and our commitment there is to repay the support of the people who have had our backs since we opened up BrewDog Berlin Mitte in 2016. We have over 2,000 Equity Punks in Germany and part of the money raised in Equity for Punks has enabled us to take on this project and give something back to the amazing people of the German capital.
That is why we can't wait to see you at 12:00 tomorrow, Berlin!
---
Deutschland hat eine Bierkultur, die ihresgleichen auf der Welt sucht – und eine lebendige Hauptstadt, die für Vielfalt und Freiheit steht. Berlin ist vielfältig und spannend in so vielen Aspekten. Ob es die Berliner (und alle die sich als Berliner zählen) selbst sind, ob historisch, kulturell oder kulinarisch: Wir lieben diese Stadt mit und wegen ihrer Einzigartigkeit und ihrer ganz besonderen Attitüde. Ab morgen werden wir ein Teil davon sein: Ein Teil von Deutschland, von Berlin und der deutschen Brauszene. Das ist wirklich eines der coolsten Projekte, die wir je angestoßen haben: Unser DogTap Berlin samt 2.500 Quadratmeter Restaurant und 4.000 Quadratmeter Biergarten, öffnet an diesem Samstag, den 10. August ab 12 Uhr.
Zur Eröffnung wird es Live Musik geben, gratis Brauereiführungen den ganzen Tag über und eine Riesenauswahl BrewDog Biere, zum Teil speziell für den DogTap Berlin gebraut sowie natürlich unsere Sauerbier-Spezialitäten von OverWorks. Von der BrewDog Bar Berlin Mitte aus wird es von 14 bis 22 Uhr alle zwei Stunden einen Shuttle-Bus nach Mariendorf geben. Wenn ihr mit der BVG oder S Bahn kommt, erstatten wir Euch ab einer Rechnung von 40 € Euer Ticket. Ach ja, und dann ist da noch unsere Schnitzeljagd mit wirklich großartigen Preisen. Seid dabei!
Den BrewDog DogTap findet ihr im Süden Berlins, auf dem wunderschön restaurierten ehemaligen Gaswerksgelände in Mariendorf (Im Marienpark 23, 12107 Berlin). Ein majestätisches rotes Backsteingebäude aus dem Jahr 1901 beherbergt unsere Brauerei samt Restaurant, umgeben von einem traumhaften Biergarten, der zum Verweilen einlädt.
Hier servieren wir Euch das komplette BrewDog Menü, von Burgern über Chicken Wings bis Pizza – und wir legen noch mal Einen drauf: Denn nur hier in Mariendorf gibt es zusätzlich eine grandiose Auswahl an Hauptgerichten on top, die Euch das Wasser im Munde zusammenlaufen lassen. Zum Beispiel das "Chicken on a Can" (!), Strammer Max, Wiener Schnitzel oder unser Tomahawk-Steak.
An Samstagen, Sonn- und Feiertagen bieten wir bereits ab 9 Uhr unser Brunch-Menü an. Unser General Manager Florian und sein Team werden ganz schön rotieren zwischen insgesamt 60 Zapfhähnen an mehreren Bars, inklusive zweier Cask Ale-Hähne. Lasst Euch überraschen! (… und stellt Euch das Ganze mal zum nächsten #CollabFest vor!)
Neben dem leckeren Menü und unseren Bieren gibt es aber noch viel mehr zu entdecken: Zum Beispiel unsere "Beer School". Hier könnt ihr alles zum Thema Bier lernen und an unseren Brewkits sogar selbst brauen. Oder die "DeskDog" Zone, unser Co Working-Bereich. Außerdem gibt es ein Bier Museum. Eine Minigolf-Anlage. Flipper. Arcade-Games. Shuffleboards. Einen Dog Park. Alles in Allem ein großer Spielplatz für Erwachsene.
Berlin ist eine der aufregendsten Metropolen der Welt. Mit unserer BrewDog Bar Mitte sind wir seit 2016 ein Teil davon, direkt im Herzen der Stadt. Wir freuen uns nun mit dem DogTap Berlin noch viel mehr an die Community der Stadt zurückgeben zu können. Allein in Deutschland haben wir schon über 2.000 Equity Punks. Ihre Unterstützung hat es erst möglich gemacht in Deutschland Fuß zu fassen und solch großartige Projekte wie BrewDog Mitte und den DogTap überhaupt realisieren zu können.
Auch darum können wir es kaum erwarten, Euch morgen ab 12 Uhr hier begrüßen zu können!