DRINK, SHARE, TRADE WITH BREWDOG OVERWORKS
Equity for Punks is live! Click here to discover more about investing in BrewDog.
When beers from BrewDog OverWorks arrive, they do so on the back of months – or years – of patient, hard work. Time spent brewing is followed by maturation in wood, tank and bottle for these beers that are never rushed. So of course, we want you to enjoy the OverWorks beers as fully as possible. And that got us thinking. There's more than one way to appreciate great beer. So we've dialled in a new way to do just that, featuring our new OverWorks Wildcard release Shogun Shaman.
Introducing our Drink, Share, Trade carriers. Great beer, now in triplicate.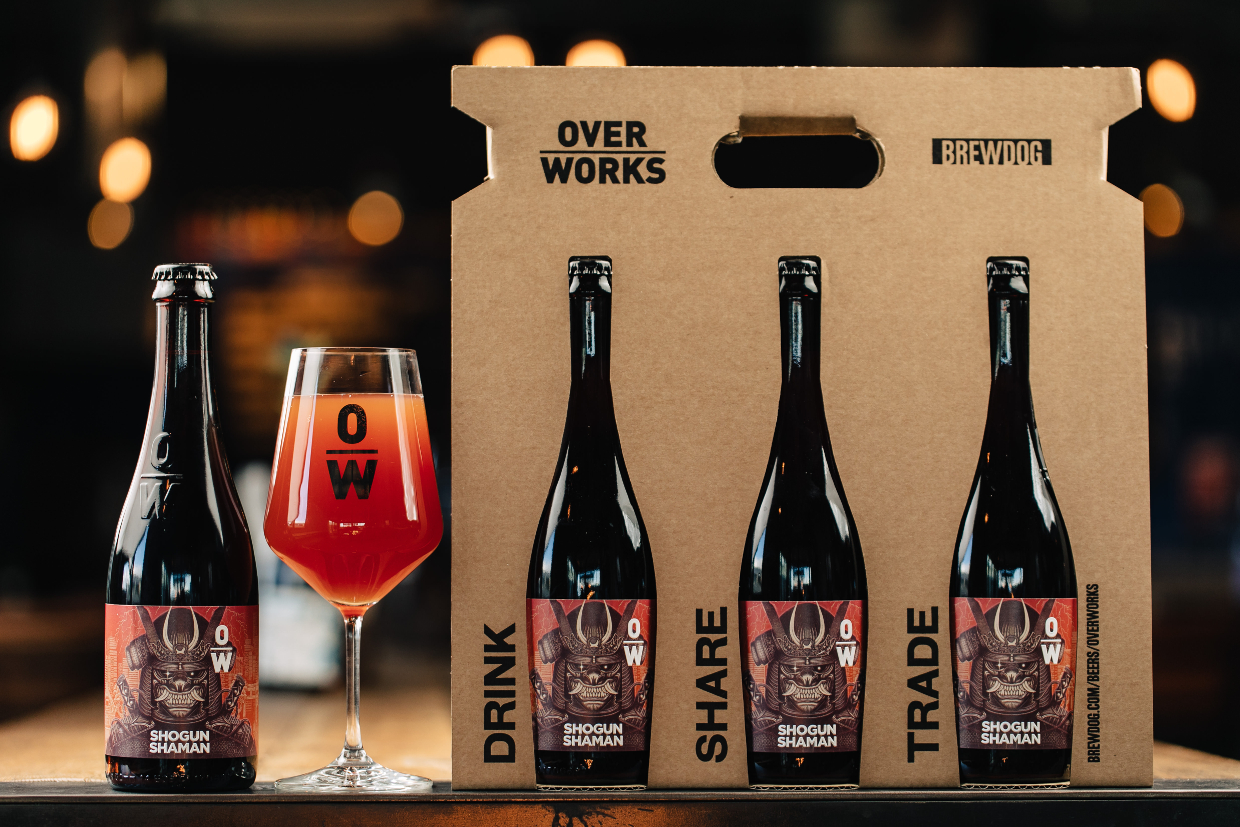 From today if you head to your local BrewDog Bar to pick up bottles of new OverWorks releases, you'll find these sturdy cardboard holders ready to go. Lay them down, add three beers from our takeaway fridges, and lift and fold the carrier around its new cargo. With secure tabs and a handle that folds over, there's no way your bounty will escape on the way home.
If you're going home, that is. Because you have options.
Drink one.
The most obvious. OverWorks beers are a living product, fermented with wild and funky yeasts and souring bacteria that don't work the 9-5 shift. Brettanomyces, Lactobacillus and co are present and mean that OverWorks beers will continue to evolve and ferment, creating new and wonderful flavours as they age. Patience is rewarded. But sometimes you need to crack one open and enjoy.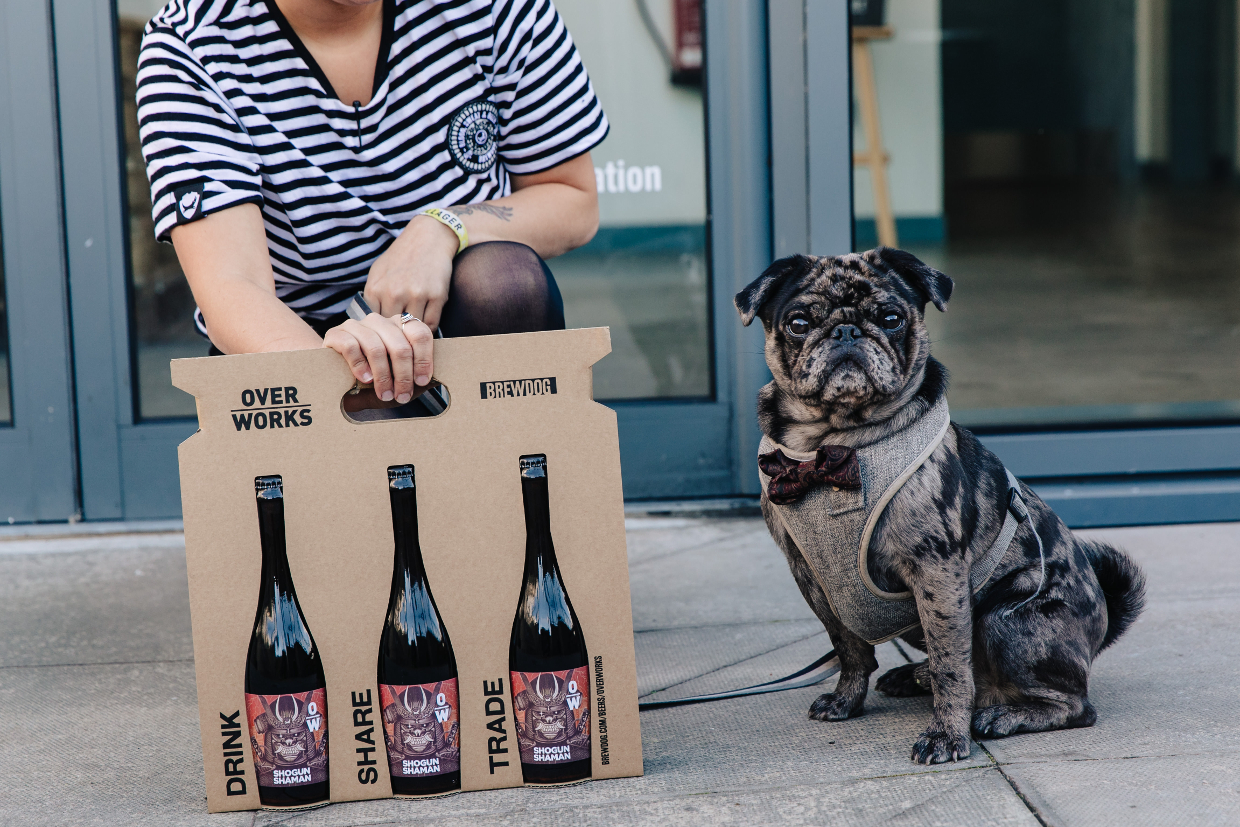 Share one.
Alternatively, why discover the joys of alternative fermentation alone? Join up with a lucky somebody and share the goods. For those with experience of this, passing round a 330ml bottle can sometimes leave you with half a mouthful each. Our 500ml OverWorks bottles are the ideal size with which to get social; take to someone's house and let them into a world of incredible beer.
Swap one.
Finally, we have a space in your carrier for the ultimate act of altruism. OverWorks releases are small-batch and limited edition, so we want to encourage people to get friendly with their caches and swap beers with friends, neighbours and compadres around the world. Why let your cupboard have all the fun? Maybe the lucky recipient will gift you something equally awesome back…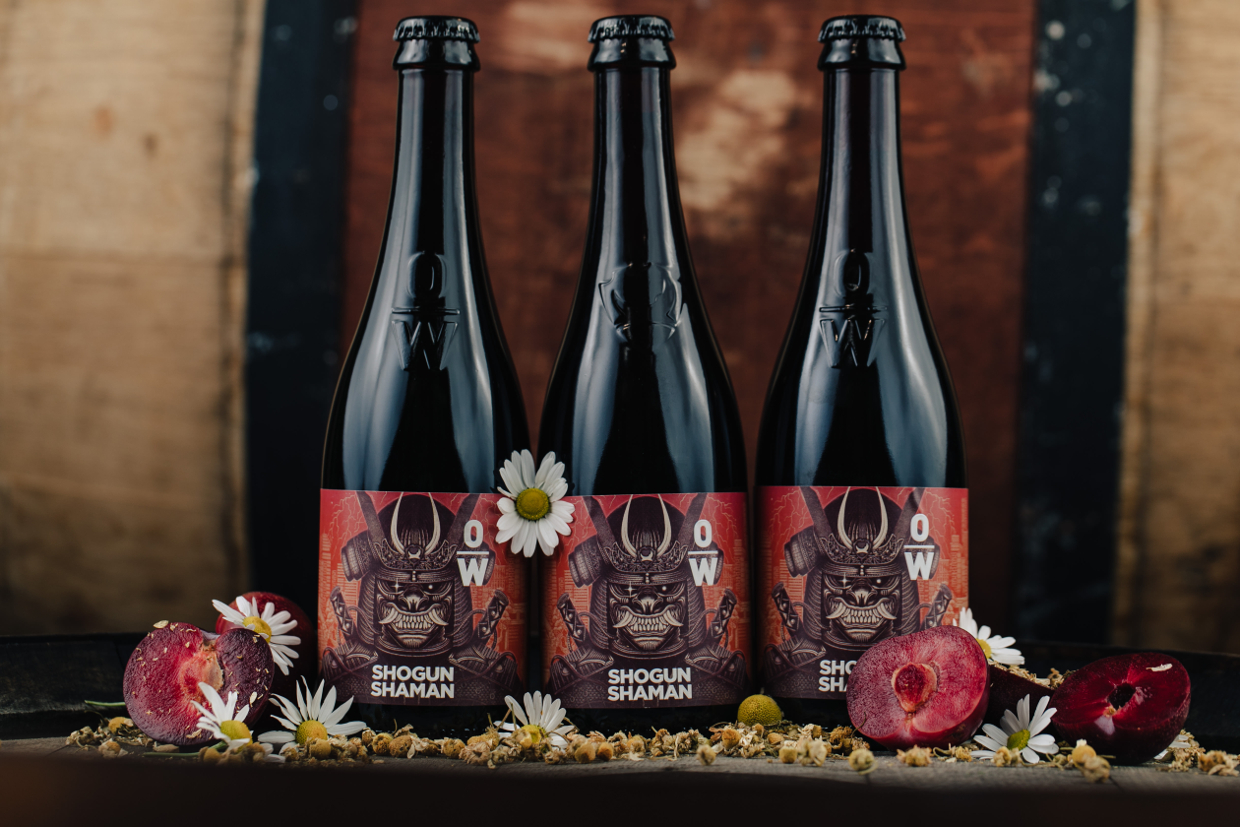 Shogun Shaman
You can buy Shogun Shaman online here
Launching this week is the perfect beer with which to roadtest your new BrewDog OverWorks carrier. Shogun Shaman is a wildcard release packing a tyrannical tartness – it is a Scottish Sour Ale fermented with damsons and chamomile, aged in foeder. With a fruity, floral sweetness giving way to funky Brett character this beer balances on the edge of the sharpest sword. Sweet damson accentuates the acidity and tannic notes from the wine-barrel ageing, while chamomile flowers provide a delicate counterpoint. Three bottles may not be enough to uncover all the flavours it has.
Shogun Shaman is live in our online store right now and will be available in our UK Bars from 6pm tonight. In the bars you will also be able to find the OverWorks three-pack carriers – just ask a member of our bar crew if you don't see them. The only other thing you then need do is start thinking about who to share and swap with!
Equity for Punks is live! Click here to discover more about investing in BrewDog.
IMPORTANT NOTICE: INVESTMENTS SHOULD ONLY BE MADE ON THE BASIS OF INFORMATION IN THE PROSPECTUS AVAILABLE AT WWW.BREWDOG.COM/EQUITYFORPUNKS. THE VALUE OF INVESTMENTS CAN GO DOWN AS WELL AS UP AND INVESTED CAPITAL IS AT RISK.