UNDER TWO WEEKS LEFT TO INVEST IN EQUITY FOR PUNKS
Click here to discover more about investing in BrewDog.
Equity for Punks has seen our community grow with every passing day, with over 135,000 people now sharing in our journey as we look to change the world of beer forever. But as that journey continues, our ground-breaking model for 21st Century business is set to come to an end. Equity for Punks is scheduled to close on Saturday 4th April. So you have a just under a fortnight to join our community from as little as £25.
Click here to discover more about investing in BrewDog.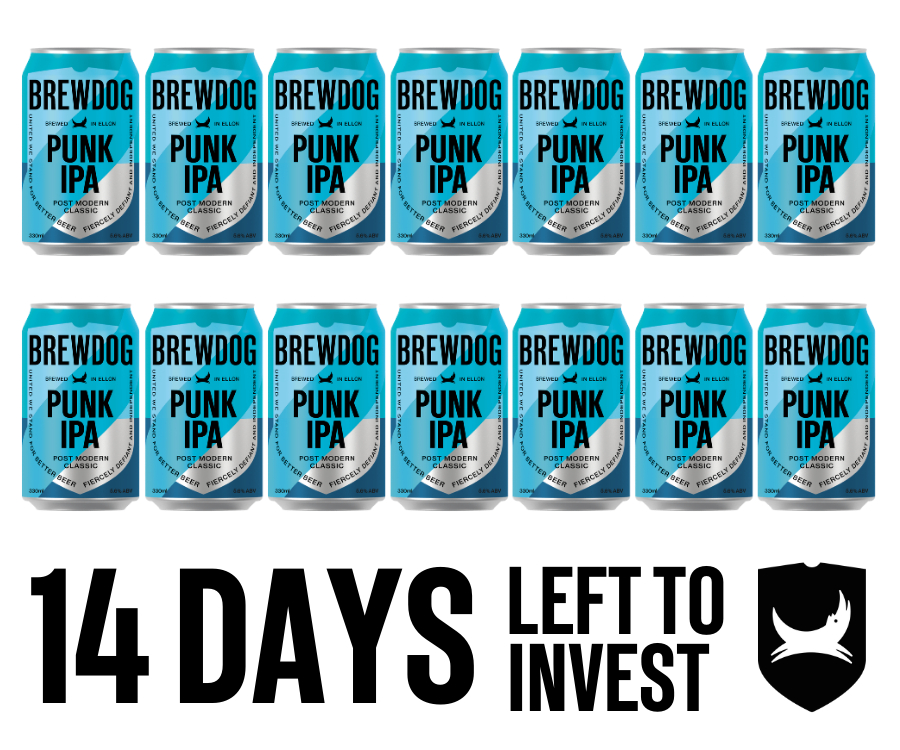 Every Equity Punk loves beer as much as we do – so every Equity Punk receives a series of benefits as a thank you for investing in our company. Alongside sharing in the growth of our company, Equity Punks get access to first options on all new beers, a free copy of our book Craft Beer for the People and loads more beery benefits.
…and for this round of Equity for Punks, the chance to win an additional £1,000,000 worth of shares.
To celebrate our community, one person who invests in Equity for Punks will become a BrewDog Millionaire. Answer a very simple beer-related question on the application form and the Equity Punk selected at random from the correct answers will win £1 Million of BrewDog shares in addition to their investment. This is something never seen before. It could, as they say, be you.
There are just 2 weeks left to invest in BrewDog.
What are you waiting for?
Click here to discover more about investing in BrewDog.
IMPORTANT NOTICE: Investments should only be made on the basis of information in the prospectus available at www.brewdog.com/equityforpunks. The value of investments can go down as well as up and invested capital is at risk.