CAPTAIN'S LOG JANUARY: NEW THINGS TO DRINK
We make things. That we love. Ourselves. From Scratch.
As well as our core range beers, here is a little sneak peek at delicious things which are on the horizon.
1) Our new AF Range
We now have an amazing range of full flavour alcohol free beers. All brewed using our micro fermentation technique these beers are designed to be 0.5% ABV with nothing removed, adulterated or bastardised.
Nanny State is our longstanding AF flagship, a robust amber base loaded with more hops and more bitterness than a double IPA. Punk AF is an alcohol free version of our classic Punk IPA and Hazy AF is a non-alcoholic spin on our beloved Hazy Jane. It also makes a killer session NEIPA blended 50-50 with Hazy Jane too!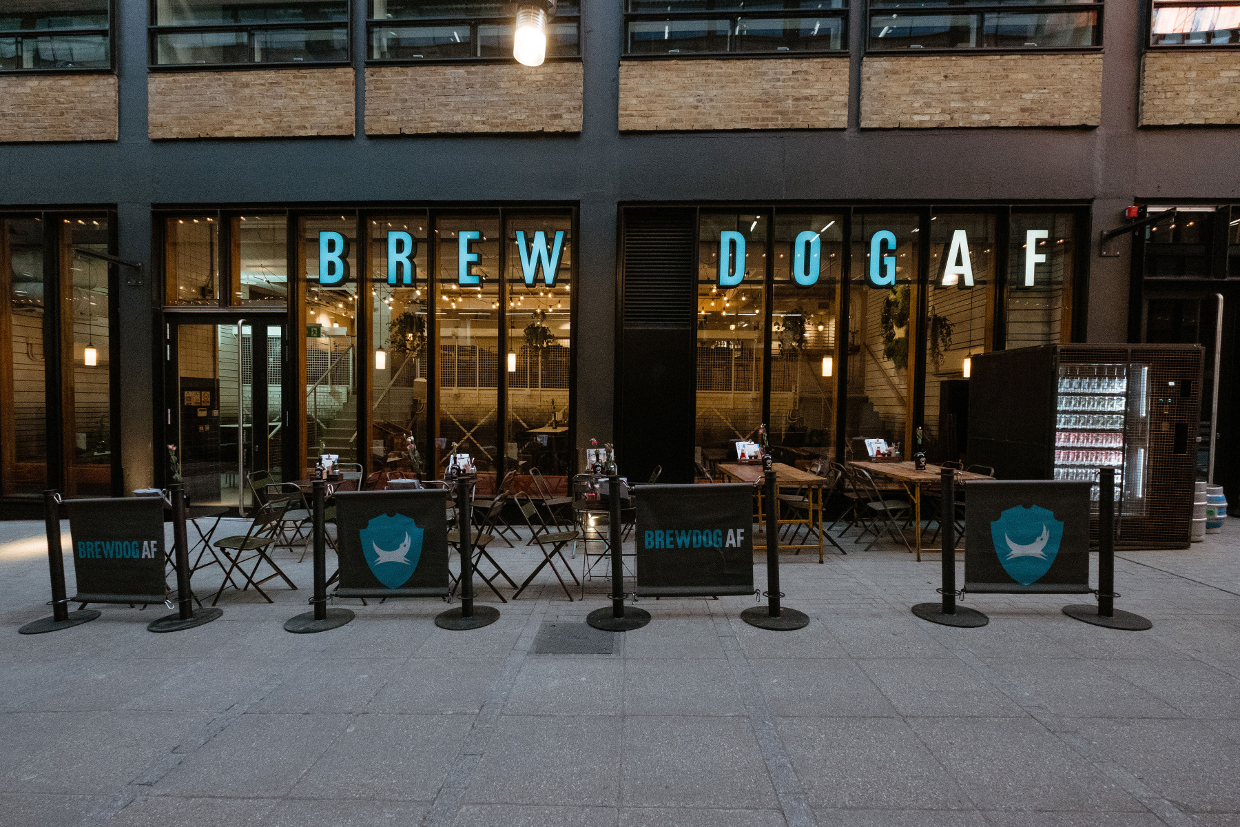 With Wake Up Call we have created the ultimate desk beer. It is a coffee, vanilla, milk stout with coffee beans that we roast ourselves and the same caffeine hit as an espresso shot. And Faux Fox is a beautiful sour, an AF raspberry Berliner Weisse with a deep ruby red hue, an avalanche of fruit and an affirming sour snap to cleanse the palate.
As well as finding these beers on our online store you can find them in all of our bars and also in BrewDog AF in London; the world's first alcohol free craft beer bar.
2) New OverWorks Beers
At OverWorks we have been busy working on a whole host of amazing new beers at our home of alternative fermentation.
Rustic Lager, which just launched on tap at our UK BrewDog bars is our unique twist on the traditional. Brewed using a blend of our house Overworks yeast and a conventional lager yeast this beer puts a farmhouse, artisanal spin on the world's most beloved beer style.
We have also just brewed and packaged two amazing imperial pastry sours (is that a thing?) called Campfire Cult and Fake Bake. Coming in 9.5% these sour beasts put a whole new spin on pastry stouts. Campfire Cult is a s'mores inspired pastry stout aged in bourbon barrels and Fake Bake is Bakewell tart inspired and aged in rye whiskey casks.

Arcade City is an alternative take on a BrewDog classic. We part-fermented Tokyo* at our main Ellon brewery and then sent the part-fermented beer to be finished off by the wild and funky alchemy of house OverWorks yeast. The result is Arcade City; a mythical spin on a digital world.
This year will also see us release our first ever tiny batch of Scottish Lambic from our beautiful OverWorks Coolship. This beer is due to be released at the AGM weekend and will only be available directly from the OverWorks brewery.
3) Jack Hammer
Not a new beer, but a firm favourite with our teams, our community and our customers making a long overdue comeback into our permanent Amplified range. Hop overload awaits. Kick-started with a massive grapefruit aroma then accelerating hard into mind bending bitterness. Don't say we didn't warn you.
We love New England IPAs. But we really love classic West Coast ones too.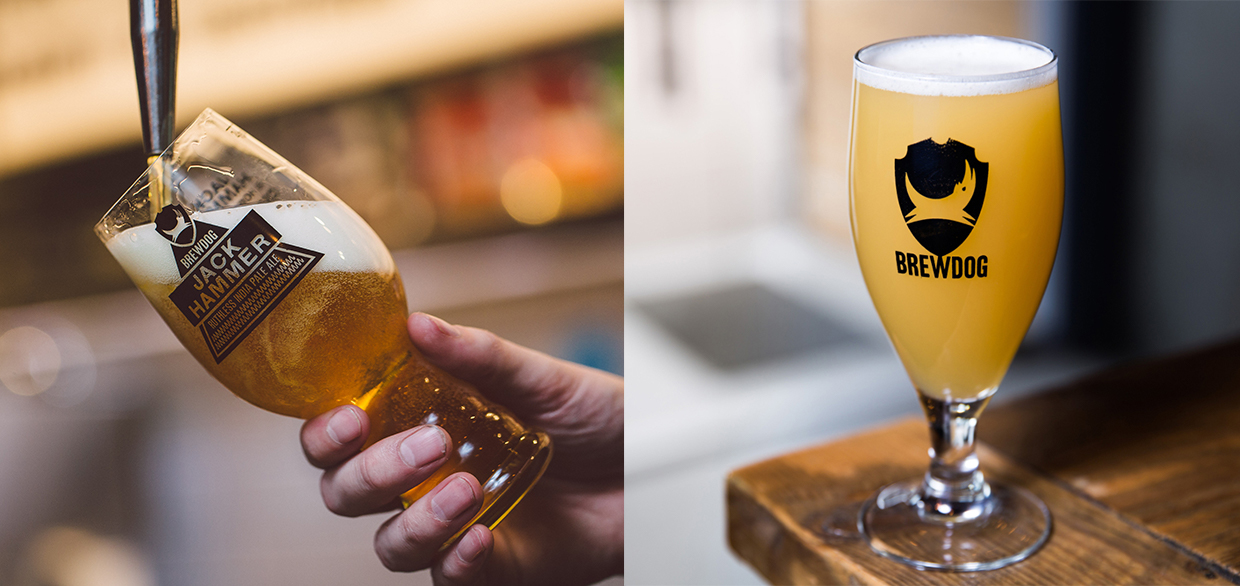 4) Hazy Everything
In 2020 we have also created a family concept around our Hazy Jane New England IPA. Current Hazy Jane, the 7.2% version, is being renamed as OG Hazy and will be launched in 440ml cans. We are also launching Triple Hazy Jane at 9.5% which will be brewed 4 times per year and also in 440ml cans. Furthermore, we just launched Hazy AF and we are about to launch a 5% quaffable Hazy Jane.
The family will look like this:
• Hazy AF – 0.5% Hazy IPA
• Hazy Jane – 5% Hazy IPA
• OG Hazy – 7.2% Hazy IPA – the same beer as we currently call Hazy Jane
• Triple Hazy Jane – a 9.5% hoppy, hazy bomb.
5) Collaborations
Building on the success of our Cloudwater NEIPA collab in 2019, which we will continue to brew in 2020 we have 2 amazing permanent collaborations being added to our line-up.
First is Roaster Coaster, brewed in collaboration with the peerless Evil Twin and brewed at our Columbus Ohio brewery. Roaster Coaster is a wonderfully decadent Nitro Vietnamese coffee imperial stout which epically showcases nitro dispense in an imperial stout. Although this beer is mainly for our UK and European customers we brewed and packed this beer in Columbus as we have the ability to fill nitrogenated widget cans there.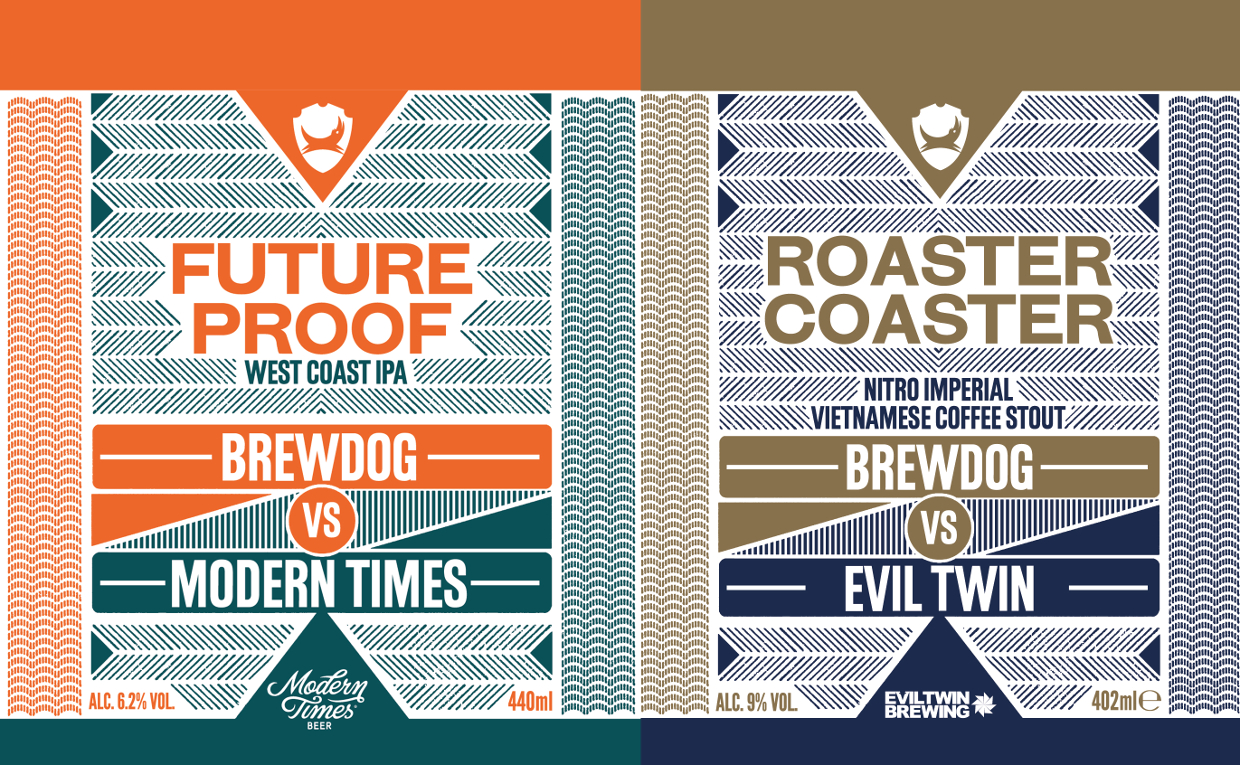 In addition to Roaster Coaster we are also collaborating with one of our favourite breweries of all time, Modern Times, to bring you Future Proof, a west coast IPA from built together with the brewing wizards from one of the west coasts most iconic breweries.
Watch out for these two beers in early March.
6) BrewDog Pale Ale
With BrewDog Pale Ale we have taken things right back to our original inspiration. Classic west coast pale ales were what inspired Martin and myself to set up BrewDog and we wanted to create our own homage to this timeless style.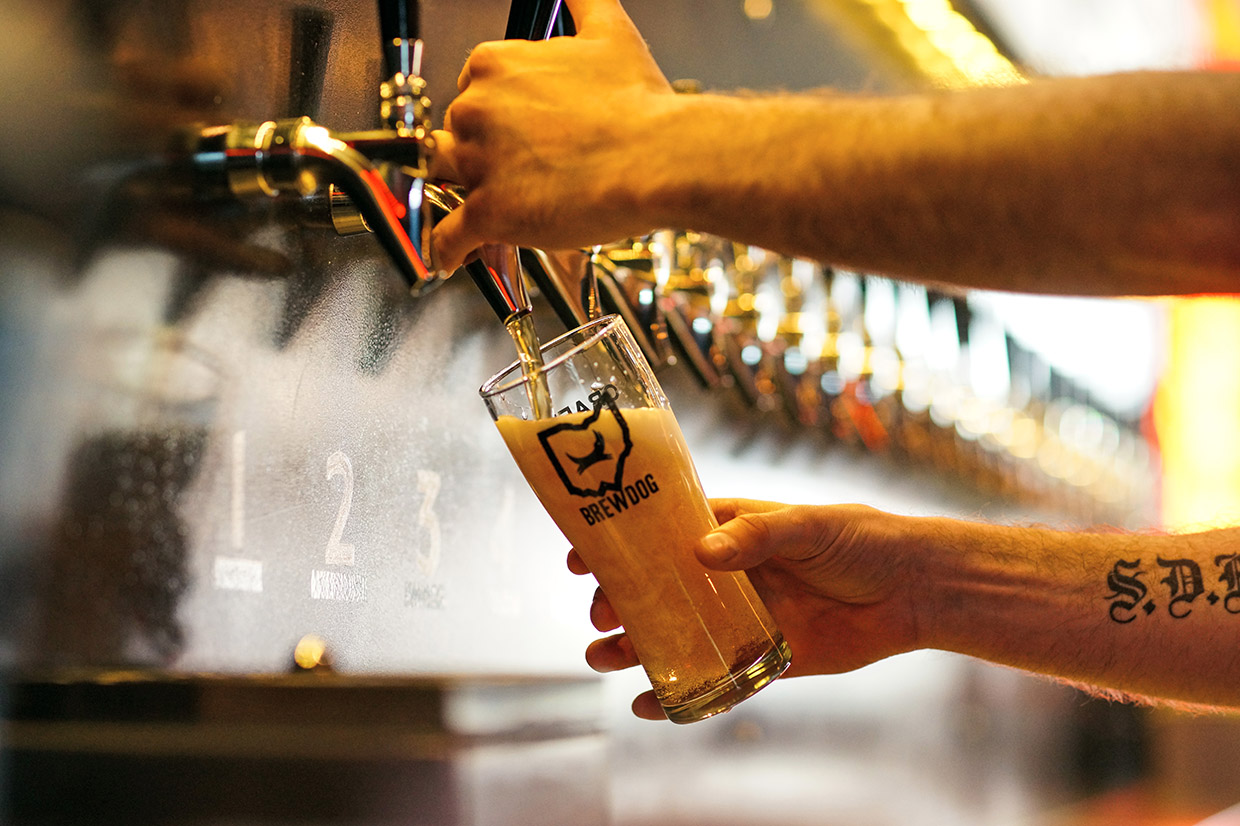 BrewDog Pale Ale, coming in at 4.2%, has a light yet robust biscuit malt base which showcases some of the most definitive hops varieties of the craft beer movement. Using hops slightly differently, this beer is not dry hopped, yet the most heavily whirlpool hopped beer we brew which translates less into aroma and more into hop taste and flavour on the back end of palate.
7) Distilling
2019 was a breakthrough year for BrewDog Distilling. Lone Wolf Cloudy Lemon and Five Hundred Cuts Botanical Rum were supported by Rogue Wave Vodka and Zealot's Heart Gin as we tripled the size of our distilling operations and 2020 promises to be another exciting year for our spirits.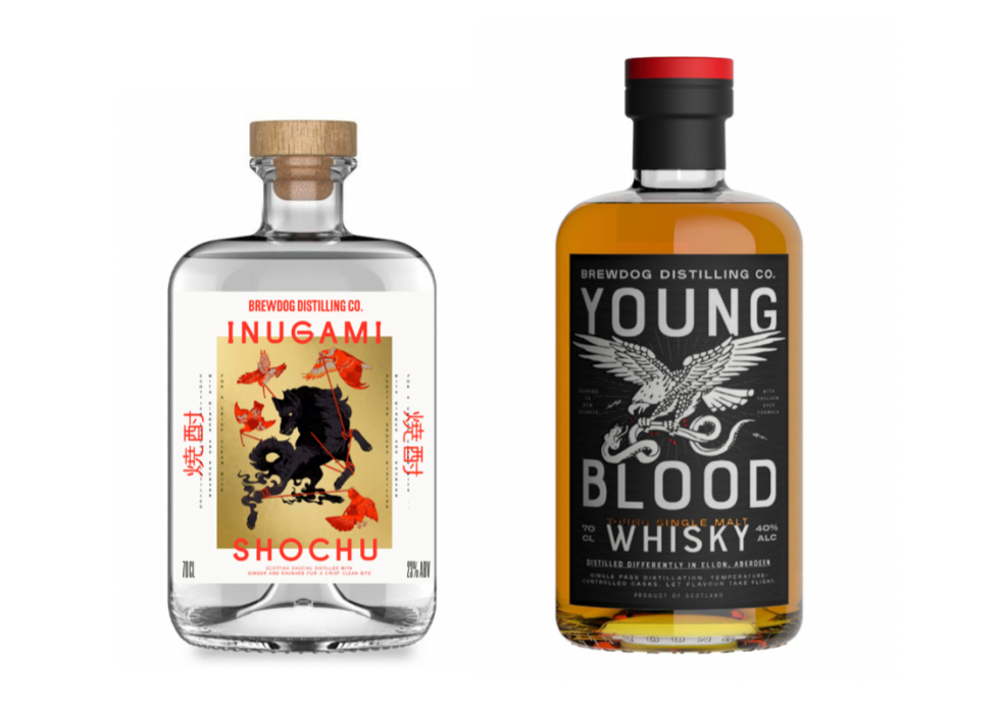 Young Blood is our take on Scotch Whisky and is the main reason we built a distillery in the first place. We are looking to launch our whisky in the second half of 2020. In the first half of the year we are launching Inugami Shochu. Shochu is a traditional Japanese mid strength spirit, and the first ever Shochu crafted in Scotland is coming in at 23% and distilled with ginger and rhubarb.
8) Amplified
We also have some new amplified beers in the works for 2020 as well as the much requested return of some BrewDog staples. The Amplified brewing calendar for 2020 looks something like this: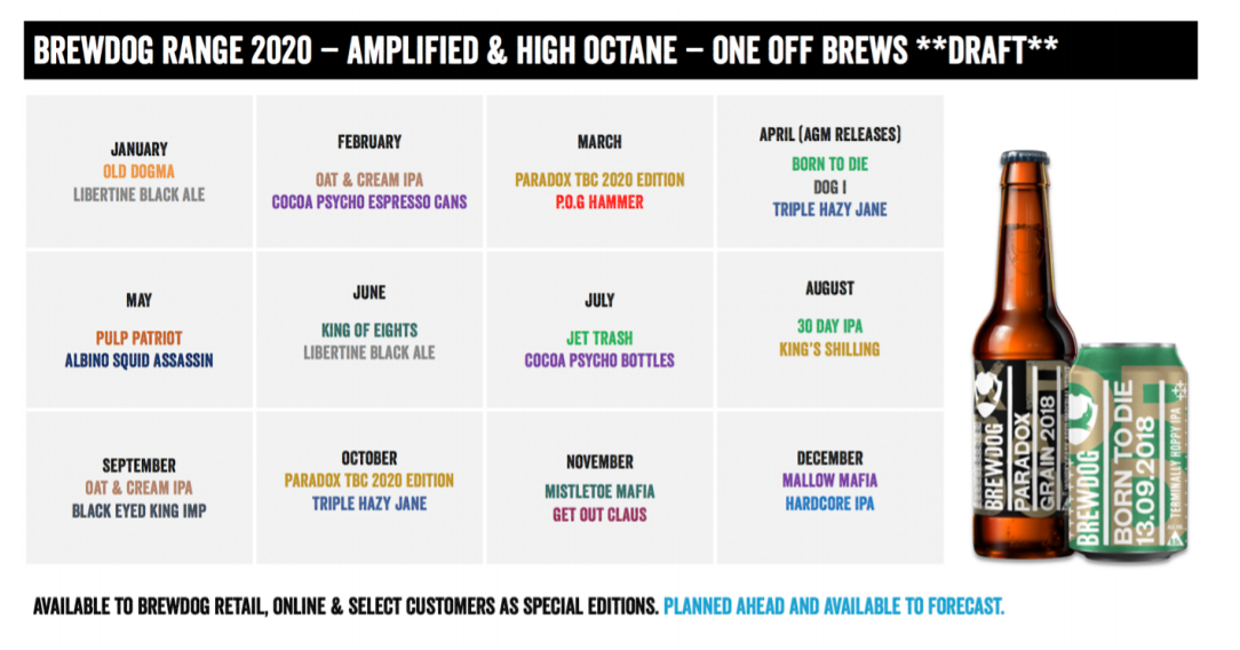 We are really excited about Espresso Cocoa Psycho in cans, more Paradox, the return of Born to Die and 30 Day IPA as well as Mallow Mafia and Albino Squid Assassin.
In fact, we are pretty excited about all of it.
James
p.s. the plans outlined above are mainly for our Ellon brewery. We will be releasing some exciting beery plans for our Columbus, Berlin and Brisbane breweries soon too!