INTRODUCING BREWDOG KENNELS
Equity for Punks is live! Click here to find out more about investing in BrewDog.
Since our first BrewDog Bar opened in 2010 we have proudly made them beacons in the citadel for amazing beer. But we want to go further still. We are going to change expectations of beer in the heart of great cities - by giving people somewhere to stay they feel truly at home. And nothing fits better than a kennel.
BrewDog Kennels are our new, city centre mini-hotels with between 2-6 rooms located above our BrewDog Bars.
Building on the concept of our award-winning DogHouse hotel, they give more people the chance to combine a memorable hotel experience with amazing craft beers on their travels. This is a revolution in accommodation.
You can find out more and book to stay in the first BrewDog Kennels right here.
The rise of craft beer has led to many things, but fundamentally it has changed the way people experience beer and travel. In this modern age every unfamiliar city has incredible beer to be discovered, if you have a base around which to centre your adventures. The BrewDog Kennels are that base - a place in which you can pitch up and get the lay of the land with draft craft beer and food delivered to your room, amidst a host of other epic features.
We have built on our game-changing DogHouse Columbus, recently named one of the 100 Best places on the Planet by TIME Magazine, with our new series of Kennels. The first will be above BrewDog Castlegate in our home city of Aberdeen, and is ready for booking right now.
The second BrewDog Kennels will follow in BrewDog Short North at the start of 2020. Following that more will appear in Paris, Manchester, Berlin and London. If you arrive in a city with great beer, we will have the ultimate in beer accommodation waiting for you.
Here's how rooms in the Aberdeen Kennels will rock. How does this sound?
• A welcome 1/2 of craft beer as you check-in at BrewDog Castlegate
• Order from the Castlegate food menu delivered to your room
• Draft beer from Castlegate in your room via a super-fresh Crowler delivery
• French-Press of BrewDog coffee in each room
• A record player, selection of vinyl and guitar in every room
• Brompton Rental bikes available to explore Aberdeen
• Full Simba Sleep experience with super comfortable mattresses, duvets & pillows
• All rooms fully dog friendly with dog beds and treats for your companion
And of course our legendary Shower Beers!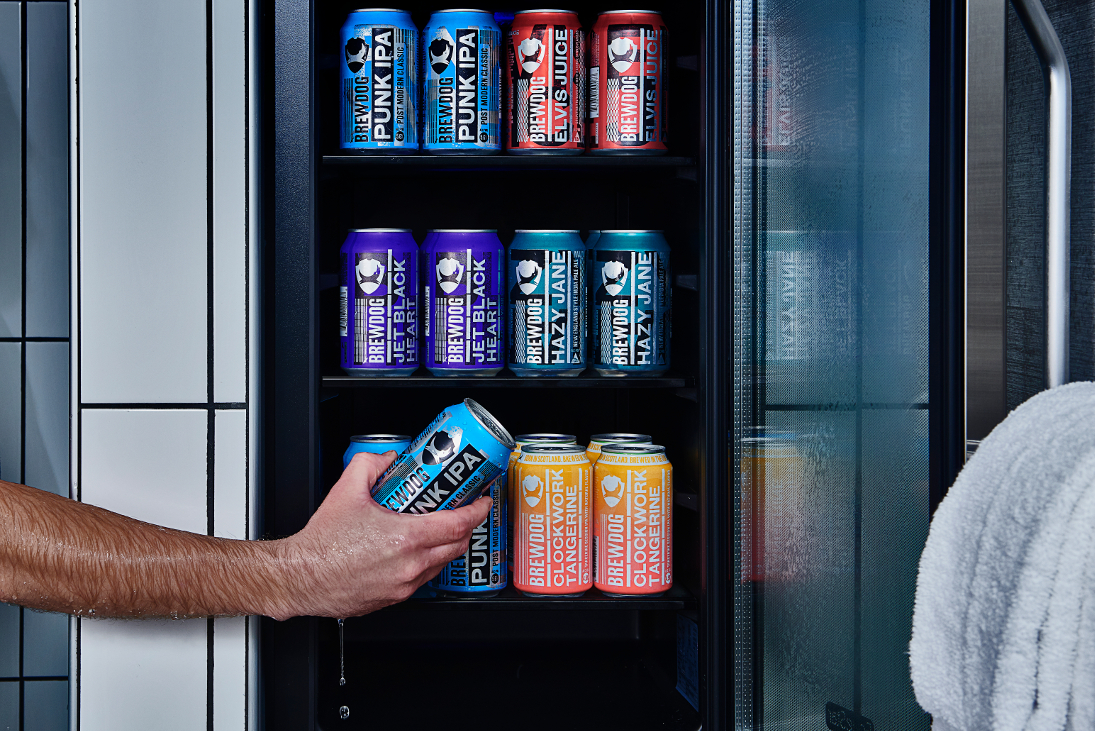 Our backyard has changed beyond comprehension over the last few years when it comes to craft beer – if you love it as much as we do there's a huge amount on offer in Aberdeen. It is the perfect place to unveil our new take on beer accommodation. With beer and food delivered to your room you don't need to move a muscle to experience what we are about as a company – or you can head downstairs and enjoy it at source in the epic BrewDog Castlegate. That epitomises the spirit of our BrewDog Kennels.
You can make a booking right here. We can't wait to show you a new side of our city with this new take on beer travel.
Equity for Punks is live! Click here to find out more about investing in BrewDog.
IMPORTANT NOTICE: Investments should only be made on the basis of information in the prospectus available at www.brewdog.com/equityforpunks. The value of investments can go down as well as up and invested capital is at risk.